---
Immuno-Oncology: Evaluate the efficacy of immune checkpoint inhibitors using human validated assays in vitro - CTLA-4, PD-1/PD-L1, IDO, GITR, A2A, TIM-3, LAG-3, TIGIT, OX40, 4-1BB, CD27, ICOS and more
---
Celentyx Assays Utilise:
Human tumour infiltrating immune cells recovered fresh immediately following resection of the tissue
State of the art technology e.g. PE Vectra®, 16-colour flow cytometry, Multiplex (Luminex®) assay of cytokines


Peripheral blood immune cells from healthy donors and patients with cancer (either PBMC, discrete populations isolated to high levels of purity or admixes)

A wide range of human tumour tissue available
---
EXAMPLE DATA - IMMUNO-ONCOLOGY
Evaluating single and dual checkpoint inhibition in vitro
Despite the proven clinical success of checkpoint inhibitors, measuring impact in vitro has proved challenging. Importantly, a complex mix of the immune cells found in vivo is required, as the key molecular players are expressed by multiple and distinct cell subsets. This includes (but is not limited to) the inhibited T cells (both CD4+ and CD8+), regulatory T cells that express CTLA-4, and dendritic cells that can express an array of ligands for checkpoint inhibitors including PD-L1.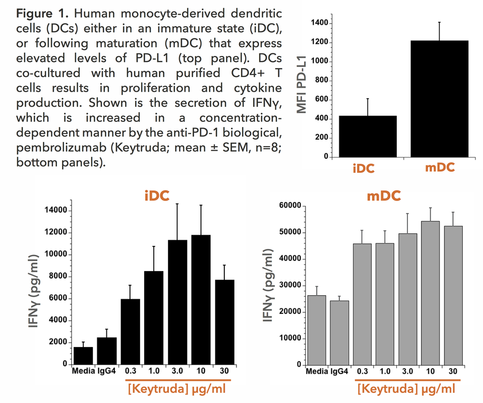 ​Evaluate your checkpoint inhibitor – alone or in combination with other checkpoint inhibitors – for efficacy in:
​
1. Function of CD4+T cells in co-culture with immature or mature dendritic cells (DCs) that replicate the complex molecular interactions occurring in vivo (Fig. 1).
---
---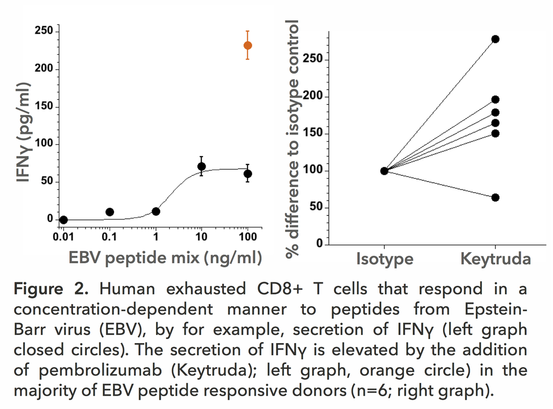 2. Reversal of CD8+ T cell exhaustion (Fig. 2)
Human tumour-infiltrating CD8+ T cells display a distinct phenotype characterised by the surface expression of a number of inhibitory receptors that can drive a functionally exhausted phenotype. An equivalent process occurs following chronic viral infection, where exhausted T cells accumulate in the presence of chronic viral antigen stimulation. Celentyx has created a human CD8+ T cell proprietary assay using a mixture of peptides from an immunodominant protein of Epstein-Barr virus. The exhausted CD8+ T cell state is reversed by, for example, the anti-PD-1 biological, pembrolizumab (Keytruda) in the majority of donors (Fig. 2). This culture system allows exploration of a range of inhibitory pathways involved in T cell exhaustion that offer potential targets for checkpoint inhibitors.
​​
---
---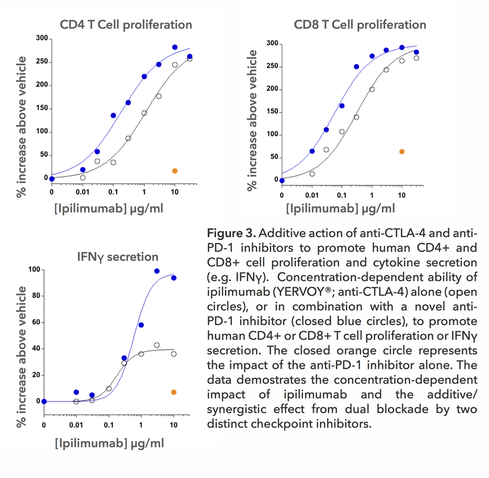 ​3. Proliferation of CD4+ and/or CD8+ cells (Figure3). As an alternative to the CD4+/DC co-culture (Fig. 1), CD4+ and/or CD8+ cells are monitored in a PBMC mix following stimulation to demonstrate potential action of checkpoint inhibitors (Figure 3).
---
---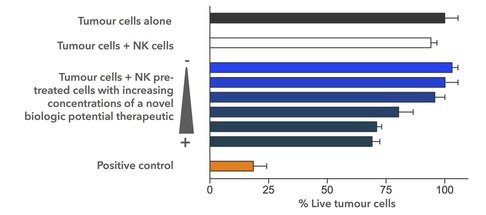 4. NK cell tumour killing (Figure 4). Natural killer (NK) cells have the ability to kill some cancer cells, but their function is enhanced through antibody-dependent pathways, with the addition of co-stimulatory receptor pathways. Using human purified peripheral blood NK cells, tumour cell killing can be promoted by potential immuno-oncology therapeutics (Figure 4).
---
---
5. Bespoke assays designed to address your question
Celentyx's senior scientists have designed numerous assays using for example PBMC and tumour infiltrating immune cells - in toto, purified cell subsets or admixes - to address client questions.
---