---
Does your drug impact cells from patients with disease involving the immune system?

---
| | |
| --- | --- |
| In addition, our in vitro ImmuKnowlogy™ platforms model the conditions under which otherwise normal PBMCs are excessively or inappropriately polarised and differentiated to engender types of pathology | |
---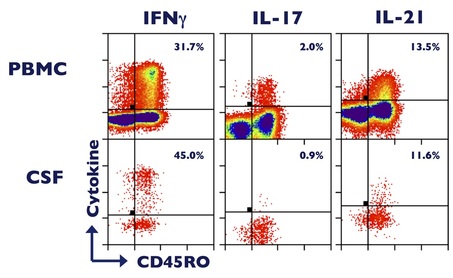 EXAMPLE DATA
Multiple Sclerosis - Analysis of cytokine secreting T cells

Left: PBMC and CSF cells from patients with multiple sclerosis
(CD3+ CD4+ cells from patients with relapsing remitting multiple sclerosis).

---
---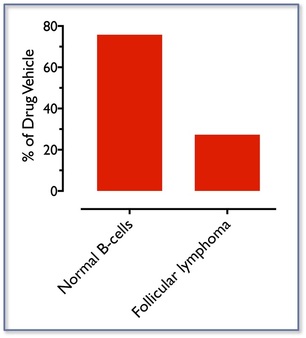 EXAMPLE DATA
Malignancies - Impact on DNA synthesis
Left: Impact of small molecule in development for lymphoma on proliferation of primary pathological immune cells vs normal tonsillar B cells.

Proprietary system to maintain viability by recapitulating the environment in vivo
Available PRIMARY cells include:
• Chronic lymphocytic leukaemia
• Multiple myeloma
• Small lymphocytic lymphoma
• Mantle cell lymphoma
• Follicular lymphoma
• Burkitt's lymphoma
• Diffuse large B cell lymphoma

---
---
EXAMPLE DATA
Psoriasis - Impact on Th17 Right: PBMC isolated from the peripheral blood of a patient with active psoriasis were cultured in with drug or vehicle. Following culture levels of IFNg and IL-17A were measured by multi-colour flow cytometry gating on CD4+ T cells and detecting intracellular cytokine. The drug was shown to reduce the production of both cytokines, demonstrating an impact on both Th1 and Th17 subsets.